​​​​​​Industrial Inkjet Printers​​
What can an inkjet printer from do for your packaging? Anything you need done, from printing your logo to coding. And the printer we supply will deliver crisp, legible type in a number of fonts. Hitachi ink jet printers print clearly on any product.
Non-contact printing lets you print onto rough, bumpy or soft surfaces from any direction
Applications of Inkjet Printers
Hitachi's state-of-the-art printing technology has been well proven in over 25 years of performance. Hitachi PX Series of ink jet printers will print clearly and precisely on any product's packaging, and its non-contact printing will let you print onto rough, bumpy, or even soft surfaces from any direction. Hitachi Industrial Ink Jet Printers are suitable to a wide array of industrial production applications. ​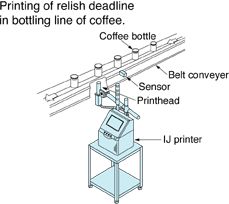 "Manufacturing Date" and "Use By​"​
Different types of bar code are available : ITF, Code 39, NW-7 and EAN13​
Line mixture and font mixture functions enable the following kinds of printing
Make your own characters and logos easily using the character design and registration function​
​Different font mixture ​
Various / Convenient Coding Function​
Date/time automatic update
The "Use by " date input can be made automatically in accordance with the manufacturing date​
Calendar substitution function
​
Symbols can be input instead of actual dates​
Basic numbering function
​
Numbering can be done incrementally or decrementally
Convenient Coding Function​
Reciprocative printing function
​
Printing can be done both forwards and backwards
Speed follow-up function
​
When the conveyer speed changes, the output pulse from the rotary encoder to the IJP keeps the print width constant
Recall/registration function
​
Up to 150 different messages can easily be stored and recalled.
Password function
​
The password is required to change print data and print setting, and to use the memory function.​
Click PDFs for Brochures
​